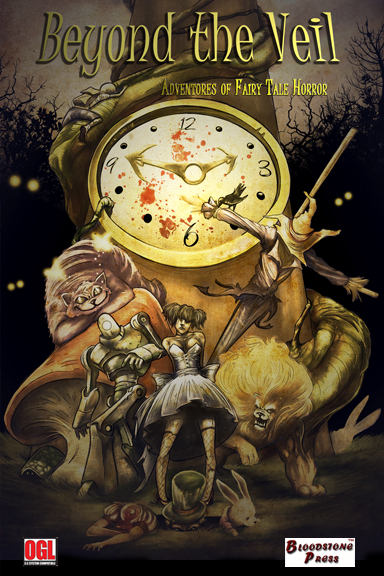 Beyond the Veil lies a land of folk tales and fairy lore. The kingdoms of Wonderland, Oz, Neverland, and Lilliput can be found here along with a vast wilderness known as The Brier. While Rabbit and Fox, Turtle, and Badger play their deadly games in the forest, far away in the castle, Cinderella struggles to live happily ever after.
Occasionally, people slip through the Veil, tumbling down a rabbithole or washing up on some strange shore. These travelers soon encounter talking animals, vile pirates, murderous clocks and evil witches that eat children. And they embark on adventures rife with satire and sharp contrasts, simultaneously light-hearted and gruesome--nonsensical and terrifying. While there are plenty of ridiculous characters and silly situations, beheadings and dismemberment are also common. Insanity, curses, and nightmares are juxtaposed with riddles, games, and frivolity.
Now you can explore the vast regions beyond the Veil with your old friends, Dorothy, Gulliver, Alice, and Peter. Revisit the stories you loved as a child or discover new lands of fairy tale adventure where peels of laughter and shrieks of horror ring from the hills.

The Great Race
A Classic Tale With a New Twist!

Return of the Yule Lord
A Tale of the Christmas Demon!

The Wonderful Wizard of Oz
The Original Tale with OGL stats!

Glinda of Oz
The Original Tale with OGL stats!